OptiFresh Bioplus Multi-Purpose Solution 100ml
We strongly recommend adding our Premium Contact Lens Solution to your order to help with the cleaning and maintenance of your lenses. Ensure your contacts are clean to keep your eyes healthy. Here's why we recommend picking up our solution set:
> Cleans & Protects
> Ensures Hydration
> Keeps pH Balanced
Key Features
Max OptiFresh® bioplus™ is a multi-purpose solution formulated using naturally occurring lubricant in your eyes. It forms a lubricating shield surrounding the lens which gives a lasting comfort and prevents moisture loss from your contact lenses all day long. It safeguards your lenses and eyes from germs by properly disinfecting them, removing protein & lipids and balances pH to match healthy tears. In addition, Sodium Hyaluronate (HA) will assist in protecting the corneal surface and reducing ocular surface damage.
Bioplus seal/ Double Moisturizing Effect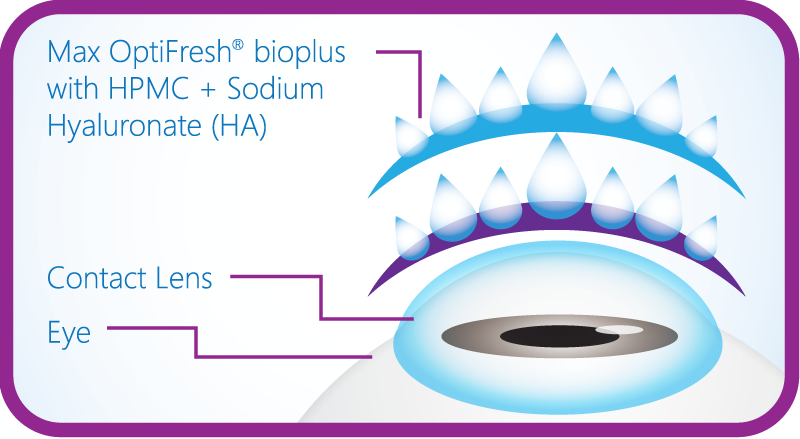 Bio-inspired lens solution for your eye health.
Double Moisturizing Effect
Extra protection against the corneal surface
Reduce ocular surface damage.
HA & HPMC
Forms a lubricating shield on the lens.
Conditions lens, seals in moisture.
Slowly releases it throughout the day.
Benefits: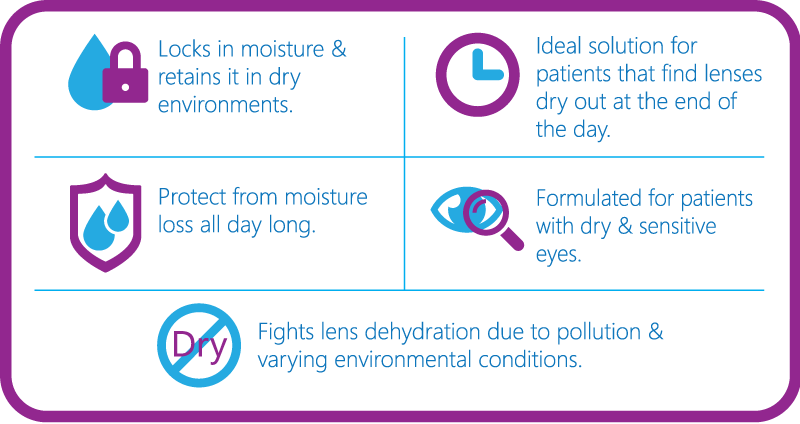 Clinical testimonials
Max OptiFresh® bioplus was associated with a statistically significant improvement in initial comfort, end day comfort, clear vision and enhanced overall lens wearing experience more effectively than test subjects previous solution.
More than 92% agree Max OptiFresh® bioplus enhance overall lens wearing experience.
More than 93% will continue using Max OptiFresh® bioplus.
I'm an optometrist, can I order contact lenses for my patients in their script?
Yes you can, most of our coloured lenses come in script (no + powers). We have set up an online ordering system specifically for optometrists. Simply register your practice here. Once approved you will be able to place your orders conveniently online. We don't do 30 day accounts and we don't supply trials, sorry.
I want to sell Colourvue contact lenses in my shop. Do you wholesale?
Yes, you can register for a wholesale account here. Once approved you will be able to log in and order online using our shopping cart.
Do you offer free shipping?
Yes, shipping is free for orders over $39.00
Do you offer discounts on large orders?
Yes, we have the following discount structure built into our shopping cart and it is automatically applied:
15% off on orders over $200.00
20% off on orders over $300.00
How do I care for my contact lenses?
A detailed care and instruction leaflet is included in every contact lens package. For non-daily lenses, we also include a free lens case and we recommend using our contact lens solution to clean and store your lenses in.
Are Colourvue contact lenses registred with the TGA?
Do Colourvue contact lenses come in prescription?
Yes, but we only supply optometrists with prescription contact lenses. A list of the ones we suppy can be found here.
How long does it take for an order to be delivered?
We ship the same day orders are received using Express Post. Delivery takes 2-4 days.
How much is shipping?
Shipping is charged at $7.95 per order anywhere in Australia and free for orders over $39.00. We don't ship internationally.
What is the minimum order quantity?
There is no minimum order quantity, but a $7.95 shipping charge applies to orders under $39.00.
What is your return policy?
Damaged or faulty items can be return for a refund or credit. We also offer a money-back guarantee if unopened contact lens boxes are returned within 30 days.
Do you have product liability insurance?
Yes, we have product liability insurance of up to $20 million.