TruBlends Blue Monthly Contact Lenses
2 Lenses per box
Free Contact Lens Case
Replacement: Monthly
Buy Cleaning Solution Here
Non-prescription
Compatible with FreshLook® COLORBLENDS® Blue
Coloured contact lenses can enhance or change the natural colour of your eyes. Colourvue coloured contact lenses come in many colours and styles. Some are designed to give a subtle eye colour change while others give you a more dramatic look. Our popular Big Eyes lenses, for example, don't just change the colour of your eyes, they also make them look bigger to give you that dolly eyes look. For a more dramatic change, we have a large selection of costume contacts that completely cover your iris with opaque colours; perfect to finish off that Halloween costume.
Why coloured contact lenses?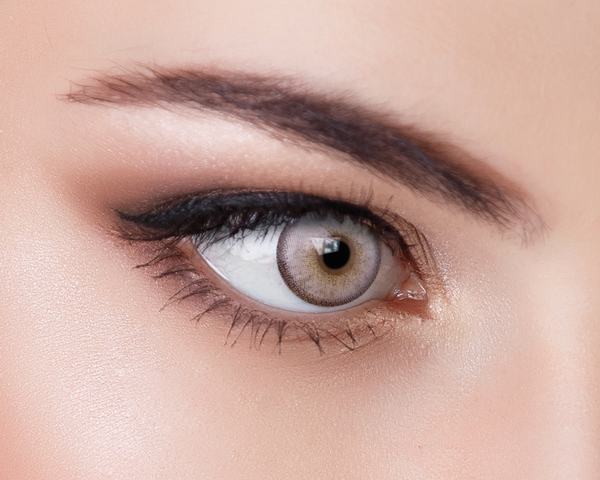 Coloured contact lenses are a great way to quickly and dramatically transform your look. It's easy to change your eye colour to fit any style or make-up with Colourvue's large selection of coloured and costume contacts.
As the perfect touch-up to your party costume or a dazzling addition to your everyday look, coloured contact lenses have found their rightful place in many contact wearers' lives. From natural green, grey and hazel, to every imaginable shade of blue, our coloured contacts will brighten your eyes, give you a natural-looking appeal and rejuvenate your appearance, going beyond the limits of genetics.
Are coloured contact lenses safe?
Specially designed to allow more moisture to reach the eye, our hydrogel coloured contact lenses reduce the itchiness and dryness associated with prolonged use of contact lenses. Enjoy your brilliant new eye colour and add a splash of sparkle to your everyday look without worrying about damaging your eyes or suffering discomfort.
Choosing the right coloured contact lenses
If you are looking to spice up your look for a special occasion, look no further than our daily coloured contact lenses. Easy to don on, they're the perfect accessory to any fancy outfit or costume. Put them on, enjoy the event and then toss them in the rubbish bin without having to worry about storing them. Achieving a whole new look for a day has never been easier!
If you're ready to commit to sparkling green, dazzling blue or warm brown tones for more than a day, check out our collection of monthly coloured contact lenses. The perfect blend of affordability, ease of use and natural, rich colours, our catalogue of coloured contacts helps you refresh your look and steal the spotlight wherever you go.
Specifications
Material

Hydrogel Terpolymer

Fittings

B.C: 8.6mm, DIA: 14.0mm

Water Content

53

%
Centre Thickness (@ -3.00DS)

0.06mm

Oxygen Permeability

38

(Dk/t)
Tint
Sandwiched colour method

Power Range

0.00 to -6.00 (in 0.50 steps)

Packaging
2 lenses per box
Replacement

Monthly
I'm an optometrist, can I order contact lenses for my patients in their script?
Yes you can, most of our coloured lenses come in script (no + powers). We have set up an online ordering system specifically for optometrists. Simply register your practice here. Once approved you will be able to place your orders conveniently online. We don't do 30 day accounts and we don't supply trials, sorry.
I want to sell Colourvue contact lenses in my shop. Do you wholesale?
Yes, you can register for a wholesale account here. Once approved you will be able to log in and order online using our shopping cart.
Do you offer free shipping?
Yes, shipping is free for orders over $39.00
Do you offer discounts on large orders?
Yes, we have the following discount structure built into our shopping cart and it is automatically applied:
15% off on orders over $200.00
20% off on orders over $300.00
How do I care for my contact lenses?
A detailed care and instruction leaflet is included in every contact lens package. For non-daily lenses, we also include a free lens case and we recommend using our contact lens solution to clean and store your lenses in.
Are Colourvue contact lenses registred with the TGA?
Do Colourvue contact lenses come in prescription?
Yes, but we only supply optometrists with prescription contact lenses. A list of the ones we suppy can be found here.
How long does it take for an order to be delivered?
We ship the same day orders are received using Express Post. Delivery takes 2-4 days.
How much is shipping?
Shipping is charged at $7.95 per order anywhere in Australia and free for orders over $39.00. We don't ship internationally.
What is the minimum order quantity?
There is no minimum order quantity, but a $7.95 shipping charge applies to orders under $39.00.
What is your return policy?
Damaged or faulty items can be return for a refund or credit. We also offer a money-back guarantee if unopened contact lens boxes are returned within 30 days.
Do you have product liability insurance?
Yes, we have product liability insurance of up to $20 million.